Case Studies | Convergent Dental
1 MIN READ
Deep Class II Restoration on Tooth #12 DO
By Timothy Anderson, DDS on May 23, 2022
Case Summary:
A 42-year-old male patient presented to the practice for his routine examination. The oral evaluation revealed that failed amalgam and recurrent decay around the margins on tooth #12 DO. The treatment consisted of existing DO amalgam removal with placement of new Class II composite. The patient reported that he was apprehensive of injections and disliked being numb after. The clinical objective was to obtain an esthetic restoration utilizing no anesthetic and maintaining patient comfort throughout. The treatment was completed using a combination of Solea and a highspeed handpiece, all without anesthesia.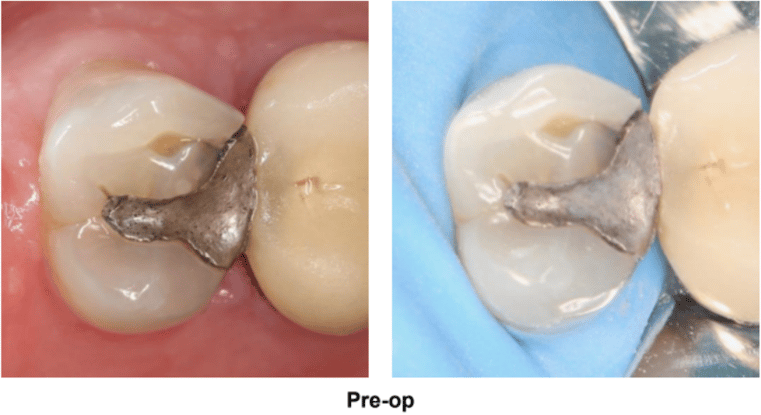 Technique Used:
To start, the dentist outlined an existing amalgam utilizing Solea's 1.25 mm spot size with 100% mist and 60% cutting speed. The spot size was then dropped to 0.5-1.0 mm, and the beam was used to outline the margins of the existing amalgam. The beam was angled away from the amalgam margin at about 20- 45 degrees in order to relieve the retention while minimizing contact with the amalgam. The amalgam was then sectioned with a 330 carbine in an electric high-speed handpiece. Each fragment was then flipped out with an explorer. Caries removal and prep extension was then completed utilizing Solea with the 1.25 mm spot size, 100% mist and 20-40% cutting speed. Once the caries had been removed, final smoothing of axial walls and cavosurface margin was completed with a fine diamond in a light brushing fashion. Final etching and preparations was completed using the 1.25 mm spot size with 100% mist and 20-40% cutting speed. No anesthetic was used, and the procedure was initiated and completed utilizing rubber dam isolation.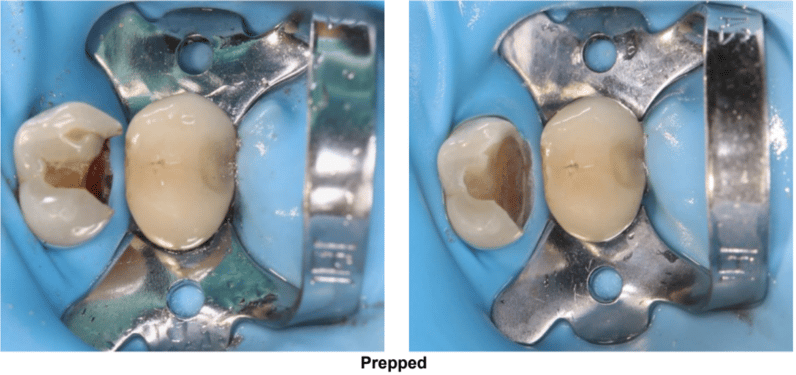 Results:
Solea's precision enabled complete control of the tissue and the results. With Solea, virtually any cavity prep can be done without anesthesia, regardless of location, size or depth. This procedure was very fast and non-invasive. The final restoration and process exceeded the patient's expectations. The patient was thrilled not only with the esthetic outcome, but the speed and lack of numbness to complete the procedure. This case highlights Solea's exceptionally clean and precise cutting ability to predictably remove even deep amalgam restorations.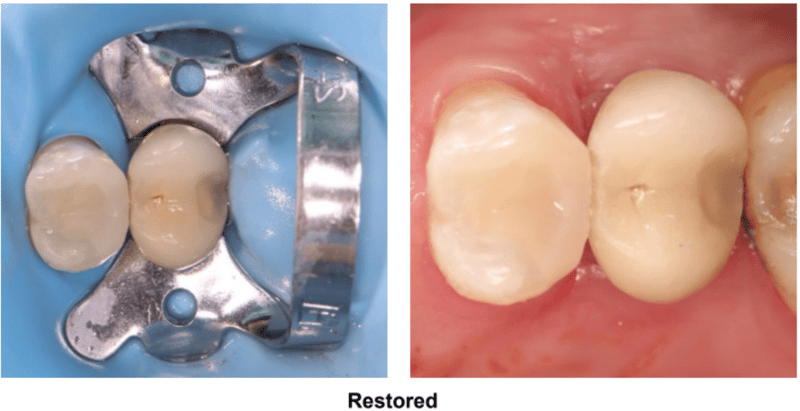 Solea Advantage:
No anesthetic was used.
Reduced chair time to less than 15 minutes compared to approximately 40 minutes with traditional tools.
The patient's occlusion was easily confirmed because the patient wasn't numb, which potentially avoided a follow-up appointment for a bite adjustment.
Patient received a much better experience that includes not being injected with anesthesia and a shorter appointment time.