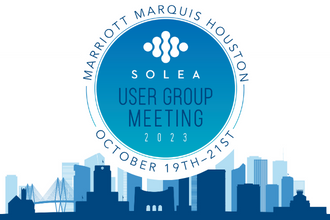 FEATURED EVENT
Solea User Group Meeting
OCT 19-21, 2023
The Solea User Group Meeting (SUGM) is the premier annual event designed specifically for Solea doctors and team. Our goal is to help practices achieve whatever their definition of success is with Solea, whether it is practice growth, improved outcomes, better patient experience, having a more enjoyable work experience or all of the above.
Upcoming Webinars
June 12, 2023
Expanding Your Soft Tissue Possibilities with the 9.3 µm CO2 Laser (1 CE-Viva Learning)
Dr. Weintraub will review how the 9.3 µm CO2 laser virtually eliminates the bleeding, sutures and post-operative pain from dental visits, enabling you to add higher revenue procedures like gingivectomies, frenectomies, crown lengthening, and more.
June 16, 2023
SOS4RTOTs (7 CEs)
This comprehensive course is specifically created for pediatric dentists, general dentists, and pediatric medical providers who are interested in understanding and diagnosing RTOTS, as well as being a part of the infant's health care team. Practical information you can use immediately in your practice.
September 6, 2023
Elevate Your Implant Dentistry with Digital Technology (1 CE-Viva Learning)
Digital technology allows us to elevate our techniques for placing, uncovering, and restoring implants. This course will review implant treatment planning and delivery using multiple tools, including intraoral scanners, CBCT, and the 9.3 µm CO2 laser. You will learn how different technology allows you to improve efficiency, patient experience and clinical effectiveness.
On-Demand Webinars
Dental Lasers: An Experience Loved by Kids, Preferred by Parents
Jenny Jackson, DMD, MPH
The 9.3 µm CO2 Laser: A Pediatric Doctor's Best Friend
Denisse Lasanta, DMD
Nonsurgical Snoring Solution for the Dental Practice
Anthony Bolamperti, DDS
Creating the Ultimate Pediatric Dental Experience: Lasers and Therapy Dogs
Jennifer Hechko, DDS
Indirect Restorations: Greater Control and Accuracy
Matthew Wimmer, DMD
Minimally Invasive Esthetic Crown Lengthening: Increasing Predictability and Efficiency (1 CE)
Scott Froum, DDS
Transform the Pediatric Patient Experience with Solea
Isaac Tam, DDS
Adding the Benefits of Solea® to your Digital Workflow
Robin Henderson, DDS
Integrating the Solea All-Tissue Laser into your Sleep Practice
Michael S. Pagano, DDS & Alexander T. Vaughan, MS, DDS
Transform Your Practice and Patient Care
Timothy Anderson, DDS
Solea: An Experience that Moves Patients and Parents
Jenny Jackson, DMD
Minimally Invasive Crown Lengthening with the 9.3µm CO2 All-Tissue Laser: Benefits for a CAD/CAM Practice (1 CE)
Joshua Weintraub, DDS