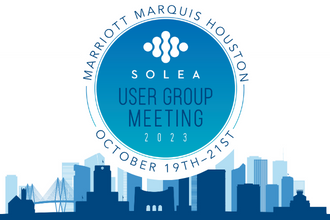 FEATURED EVENT
Solea User Group Meeting
October 19-21, 2023
The Solea User Group Meeting (SUGM) is the premier annual event designed specifically for Solea doctors and team. Our goal is to help practices achieve whatever their definition of success is with Solea, whether it is practice growth, improved outcomes, better patient experience, having a more enjoyable work experience or all of the above.
Upcoming Webinars
April 26, 2023
The 9.3 µm CO2 Laser: A Pediatric Doctor's Best Friend (1 CE)
Dr. Denisse Lasanta will discuss the 9.3 μm CO2 all-tissue laser's unique underlying technology which makes it fast, precise, reliably anesthesia-free for any cavity prep and blood- and suture-free for most soft tissue surgeries.
May 9, 2023
Dental Lasers: An Experience Loved by Kids, Preferred by Parents (1 CE-CDE World)
Dr. Jenny Jackson will discuss how the 9.3 μm CO2 all-tissue laser reliably enables anesthesia-free hard tissue procedures and blood- and suture-free soft tissue procedures. Dentists can enjoy an easier workday and increase their efficiency while achieving better clinical outcomes and delivering a completely unique patient and parent experience.
On-Demand Webinars
Nonsurgical Snoring Solution for the Dental Practice
Anthony Bolamperti, DDS
Creating the Ultimate Pediatric Dental Experience: Lasers and Therapy Dogs
Jennifer Hechko, DDS
Indirect Restorations: Greater Control and Accuracy
Matthew Wimmer, DMD
Minimally Invasive Esthetic Crown Lengthening: Increasing Predictability and Efficiency (1 CE)
Scott Froum, DDS
Transform the Pediatric Patient Experience with Solea
Isaac Tam, DDS
Adding the Benefits of Solea® to your Digital Workflow
Robin Henderson, DDS
Integrating the Solea All-Tissue Laser into your Sleep Practice
Michael S. Pagano, DDS & Alexander T. Vaughan, MS, DDS
Transform Your Practice and Patient Care
Timothy Anderson, DDS
Solea: An Experience that Moves Patients and Parents
Jenny Jackson, DMD
Minimally Invasive Crown Lengthening with the 9.3µm CO2 All-Tissue Laser: Benefits for a CAD/CAM Practice (1 CE)
Joshua Weintraub, DDS