2 MIN READ
Innovative Dental Technology Increases Efficiency & Production in Your Practice
By Convergent Dental on February 01, 2022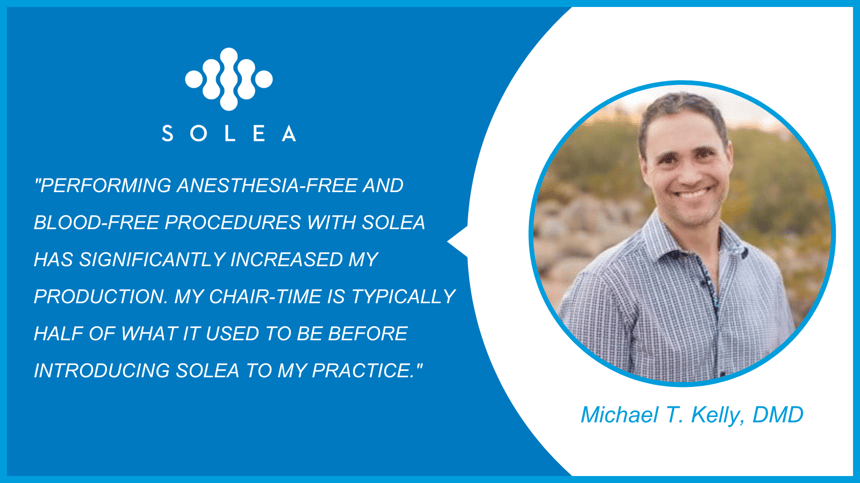 COMMITMENT TO PATIENTS AND PRACTICE
Michael T. Kelly, DMD of Aesthetic Dentistry of Scottsdale is committed to dental excellence and strives to teach others about advancing dental techniques. He and his team successfully utilize innovative dental technology to help increase efficiency and production throughout the practice and improve patient experience.
DENTAL TECHNOLOGY OF CHOICE
Dr. Kelly is passionate about innovation in dentistry. He is currently an instructor with Aesthetic Vision Seminars and has taught for the American Academy of Cosmetic Dentistry, Becden Dental Lab, Carestream Dental and the Central Florida Academy of General Dentistry, amongst others. Dr. Kelly keeps up to date with all of the latest trends in dental technology and was previously utilizing a 10.6 micron CO2 laser for soft tissue procedures. When he heard there was a 9.3 micron CO2 laser that could cut soft and hard tissue, he had to investigate.
"I am constantly trying to be a better dentist and part of that journey is knowing what dental technologies have the power to move the needle at my practice. After one look at Convergent Dental's Solea All-Tissue Laser – I was sold."
Dr. Kelly's practice was full so improving efficiency was his main priority when investing in Solea. He knew that by eliminating anesthesia, Solea could remove many of the obstacles that slowed him down. He would no longer need to calm patients down, inject the anesthesia, wait for it to take effect, and then schedule additional visits for multi-quadrant dentistry. With Solea, Dr. Kelly could simply greet the patient, get started, and stay until treatment was complete.
He was ready to jump in with both feet but was not 100% sure how he would integrate a hard tissue laser into his practice. All of his questions were answered during his immersive, one-day training session that got him and his team up to speed on Solea quickly
"Convergent Dental's training program had me and my team comfortable with Solea almost immediately. We were well prepared to use the gold-standard of dental lasers the very next day."
EFFICIENCY GAINS THROUGH SOLEA
Dr. Kelly is thrilled to have the days of numbing patients in his rear view mirror. With Solea, he performs anesthesia-free and blood-free procedures nearly 100% of the time. He works in multiple quadrants during a single visit, can treat patients the same day if they find cavities during a hygiene check and does more soft tissue work than ever, all of which has significantly increased both efficiency and production.
"Solea is never left down the hall – it is ready to be used for every patient I see," said Dr. Kelly. "Chair-time is routinely half of what it used to be before introducing Solea to my practice."
Solea also provided a significant boost in new patient visits due to the improved patient experience. Social media engagement went up 150 percent and new patient visits went up 50 percent. These numbers are unprecedented in Dr. Kelly's experience and he is confident they will continue to grow as more patients experience Solea.
---