The Solea® Dental Laser and Soft Tissue Procedures
3 MIN READ
The Solea® Dental Laser and Soft Tissue Procedures
By Convergent Dental on June 26, 2017
It's a fact: since the onset of the Great Recession in the late 2000s, many—if not all—American dental practitioners have felt and continue to feel the effects of the financial decline. In the Dental Economics article, Seven Ways the New Economy has Changed Dentistry, Dr. Roger P. Levin highlights various examples of how the industry has been impacted. For instance, certain patients have chosen to go without elective treatment, others have abandoned the dental system altogether, and moreover; most insurance carriers have created lower reimbursement plans that accommodate those who sit in the chair, but unfortunately harm the dentist.
Although the examples mentioned above are dissimilar, they all result in the same outcome, which is a reduction in profits for the dental practice.
Today in 2017, the recession is over and dentists have more opportunity than ever to be ambitious and generate as much revenue as possible for the growth of their practice. But how? The answer is simple: transition to laser dentistry and begin offering more treatment options that serve patients' needs in-house.
Why the Solea® dental laser?
With Solea, clinical situations that once had to be referred out can now be managed right within the walls of your own office. In fact, with Solea most procedures—including those that involve the majority of soft tissue cases—can be performed without using an injectable anesthetic and faster. Solea provides patients with the utmost convenience because of the reduction in bleeding and need for sutures. Patients will not only experience minimal post-operative discomfort and a shorter recovery time, but will also be met with the ease of staying in your practice, the place that they know and are most comfortable in.
Soft tissue case studies with Solea
The Solea dental laser has undoubtedly changed the way general practitioners can approach soft tissue procedures. From dental gingivectomies to the removal of oral lesions, the case studies below exhibit how Solea enhances the procedure for GPs by reliably eliminating the need for an injectable anesthetic, reducing bleeding, increasing efficiency, and most importantly, promoting greater patient satisfaction.
1: Solea was used on a first-time 13-year-old female patient who had initially visited her dentist for a single tooth dental gingivectomy appointment. While there, it was identified that she had gingival hyperplasia that had occurred due to puberty; and instead of a single tooth, she was in need of a six-tooth gingivectomy and depigmentation. For both procedures, the only form of anesthetic used was a topical agent (TAC). The procedures also called for the same functions: the hard and soft tissue selection, 1% mist and a cutting speed of 30%-50%. In addition, three spot sizes were used: 1.00 mm to get rid of hyperplastic tissue, 0.25 mm for gum contouring, and 1.25 mm for depigmentation. In total, it took about 20 minutes from start to finish.
If this case were performed traditionally, it would have taken over one hour to complete. As a result of Solea, there were major time savings, virtually no bleeding, and everything was accomplished in just one appointment. Read the full gingivectomy white paper.

2: In another case, the Solea laser was used on a patient who displayed a central incisor fracture. The clinical objective here was to expose the tooth structure coronal to gingiva and bone, which called for a gingivectomy. During the procedure, no anesthetic was applied; and from beginning to end, the hard and soft tissue selection was sustained, as well as the 0.25 mm spot size with 1% mist and a cutting speed between 10% - 40%. In totality, the gingivectomy took less than 10 minutes to complete.
If traditional instruments were used, the patient would have needed an injection in the maxillary anterior region around tooth #8 and #9—one of the most uncomfortable areas for anesthetic to be administered. The procedure would have also taken over a half hour, which would have added an extra 20-or-so minutes onto the time. In addition, there was minimal bleeding, no need for a painful injection, and post-operative discomfort was minimized. Read the full gingivectomy white paper here.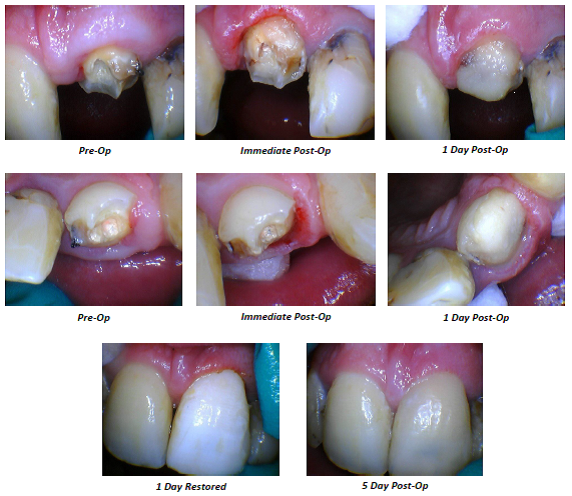 3: Solea was utilized to remove a fibroma-like lesion from the right/lateral dorsal border of a 76-year-old patient's tongue. Before starting, a topical anesthetic (TAC) was applied, and once the procedure began, under the hard and soft tissue selection, a cutting speed of 10%-40% was used and a 0.25 mm spot size with 1% mist. Altogether, the removal took about six minutes to complete.
If performed conventionally with an injection and a scalpel, it would have taken approximately 25 minutes, and the patient would have most likely experienced significant post-operative pain. Solea saved the dentist time, spared the patient discomfort, and allowed for the procedure to be free of anesthesia, blood, and sutures. Read the full fibroma removal white paper.

In respect to soft tissue procedures specifically, using the Solea dental laser can help you broaden your capabilities when it comes to taking on difficult or unfamiliar cases. It will also provide you with a multitude of benefits, such as improved safety, enhanced speed, a higher level of control, and virtually no bleeding while you're working. Ultimately, you'll see that the greatest advantage will be the significant growth for your practice.
Contact Convergent Dental today to learn more about the benefits of soft tissue procedures with Solea.