Reliably Anesthesia- and Blood-free Dentistry Delivers Better Outcomes
2 MIN READ
Reliably Anesthesia- and Blood-free Dentistry Delivers Better Outcomes
By Convergent Dental on August 16, 2021
When people think of the dentist, they often think of having a cavity filled, which inevitably leads to thoughts of pain, anxiety over the needle, and the distressing sound of the drill. If they're in a situation where they've had soft tissue surgery, they may also think of stitches and the taste of blood.
Overcoming these negative associations and providing a caring, comfortable environment where patients are happy to return is a challenge for many dental practices. The best way to remove these obstacles is to take the drill, noise, needle, sutures, and pain out of dental visits.
Solea is the first FDA-cleared, computer-aided CO2 9.3 micron laser for hard and soft tissue ablation. Its unique wavelength is highly absorbed in both hydroxyapatite and water, allowing it to vaporize tooth structure and gingiva at a very shallow penetration depth with speed, precision and an analgesic effect dentists and patients can count on.
CASE STUDY: CLASS V SUBGINGIVAL #22 WITH SOLEA
PATIENT: A 92 year old male patient presented to the practice for his regular checkup. The oral evaluation revealed a failing composite restoration with recurring decay that extended below the gum line. The clinical objective was to remove the decay and restore the tooth with composite resin.
PROCEDURE: The whole treatment was completed anesthesia- and blood-free. To start, a gingivectomy was performed blood-free. Then without stopping, the dentist easily transitioned to remove the hard tissue decay. By simply varying the pressure on Solea's foot pedal, both were performed using the 1.25 millimeter spot size with 40% max cutting speed, and 100% mist. A burr was used to finish the final restoration yet without anesthesia.
OUTCOME: The patient reported no post-op pain and incredibly fast healing of the tissue was observed. The total prep time was one minute. Whereas with conventional instruments, this procedure would have lasted approximately 20 minutes and required an injectable anesthetic. This case demonstrates Solea's precision and the fast healing it enables.
RELIABLY ANESTHESIA-FREE DENTISTY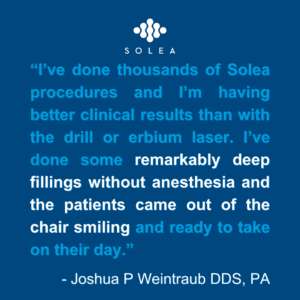 The gate control theory of pain asserts that non-painful input can close nerve "gates" to painful input, which prevents the sensation of pain from reaching the central nervous system. Solea vaporizes tooth structure and soft tissue at a very high frequency, up to 10,000 pulses per second, which is believed to overwhelm pain receptors, preventing pain signals from ever reaching the brain. The result is an analgesic effect that allows dental work to be completed without needles, numbness, or pain.
VIRTUALLY BLOOD-FREE DENTISTRY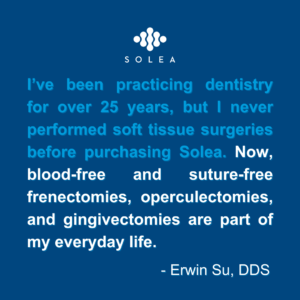 When it comes to cutting soft tissue, whether or not it bleeds is determined by whether the wavelength of the laser penetrates deep enough to close off the blood vessel. In order to close off the blood vessel, the laser's penetration depth has to be at least equal to the diameter of the blood vessel, otherwise, the vessel remains open and bleeding occurs. At 9.3 microns, Solea's penetration depth is slightly greater than the diameter of a blood vessel which is why Solea is virtually blood-free.
DELIVERS BETTER OUTCOMES
For hard tissue, Solea allows for selective tissue ablation, which results in the preservation of healthy tooth structure and minimized risk of iatrogenic damage. Solea also provides a bactericidal effect because laser energy kills bacteria with which it comes in contact.
For soft and osseous tissue, Solea enables precise control and is both atraumatic and virtually blood-free. Dentists can:
Easily trough around crown margins to improve the quality of impressions or scans.
Quickly and bloodlessly uncover an implant.
Offer a patient experience that includes little to no post-op discomfort and remarkably rapid healing.
And for the patient, Solea creates a drill-free, noise-free, needle-free, blood-free, suture-free, pain-free dental visit. When the source of anxiety is taken out of the experience, new patient referrals go up, and attrition goes down.
For both hard and soft tissue procedures, Solea enables users to deliver better clinical outcomes and a better patient experience than the use of traditional instruments.
---