Provide Relief for Patients Who Snore
Solea* has an easy to administer application that tightens and stiffens collagen in the soft palate. Tightening and stiffening tissue reduces vibrations that commonly cause patients to snore. Unlike surgical procedures that require long and painful recoveries, Solea's application is non-surgical and allows patients to immediately return to their daily routines with little to no discomfort. Best of all, it takes only minutes to administer and is one of the simplest procedures you can do!
*Solea has been cleared by the US FDA for incision, excision, vaporization, coagulation and hemostasis of soft tissue in the oral cavity.
Tightening Collagen With Laser Therapy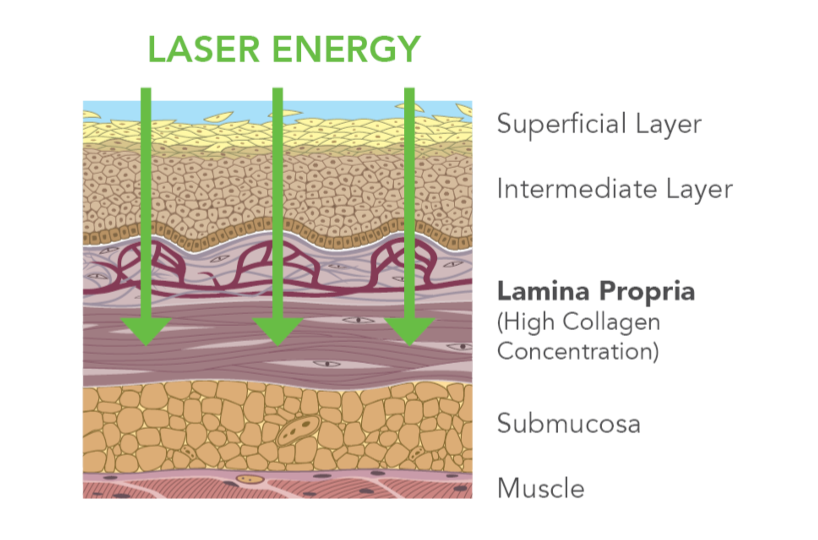 Laser energy disrupts the cross-linking of collagen fibers in the tissue layers of the soft palate, causing collagen to contract and increasing the stiffness of the tissue. Cells and collagen, now in closer proximity, may also form new connections that further increase tissue stiffness over time. Tightening these tissue layers reduces the vibrations that cause patients to snore.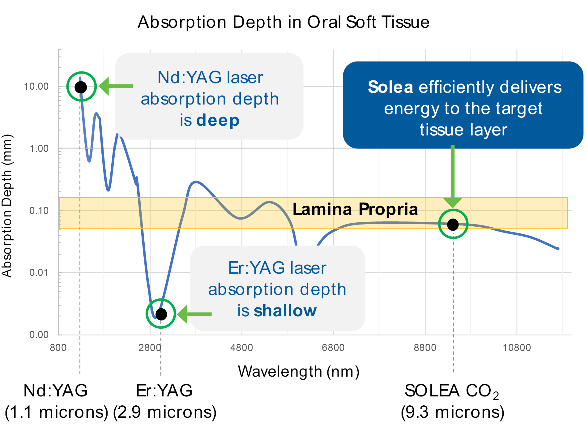 The penetration depth of Solea in soft tissue makes all the difference vs. erbium lasers. Solea efficiently delivers energy to deeper tissue layers that contain high concentrations of collagen without ablating superficial tissue layers. You can gently warm tissue at the perfect depth in the soft palate, resulting in rapid contraction and instant results.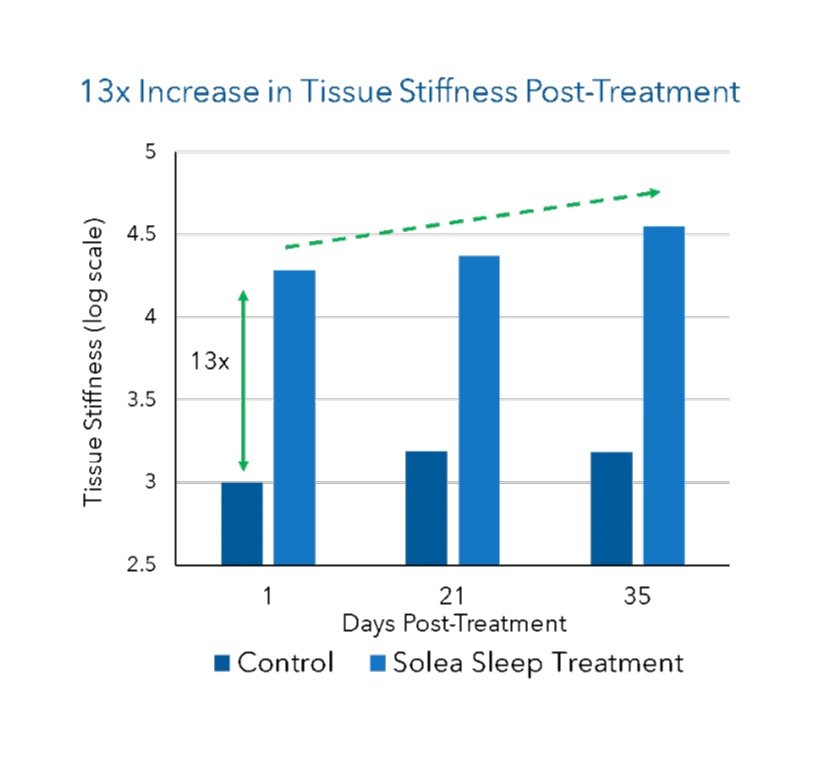 In Vivo Study Results
An in vivo rat study confirmed Solea safely increases the stiffness of the soft palate and can be used as an effective treatment to reduce tissue vibrations that are associated with snoring.*
Tissue stiffness increased by 13x after day 1 and was maintained 35 days after treatment
The thickness of the connective tissue layers in treated tissue increased, consistent with the observed increase in tissue stiffness

Other than positive collagen changes (contraction and accumulation), there were no lasting effects on the tissues after day 1

*Badreddine A, Couitt, S , Kerbage C. Histopathological and biomechanical changes in soft palate in response to non-ablative 9.3-μm CO2 laser irradiation: an in vivo study. Lasers Med Sci (2020).
Real Patients. Real Results.
"You already have patients in your practice eager to get treated with Solea. Chair time is less than 15 minutes, and results are almost immediate. Patients are not only reporting significant improvements in snoring volume and frequency, but also in the quality of their sleep. We're thrilled to offer a treatment that has a positive impact on the lives of our patients and their partners!" - Perry Orchard, DDS

"This therapy has changed my life. My sleep has improved, I'm not snoring, I have more energy in the morning, my wife's sleeping better!"
Herb
Former Snorer

"After the Solea Sleep treatment, I immediately noticed an improvement in his snoring. It was like night and day. He gets a better night's sleep, and I get a better night's sleep!"
Susan
Wife of Former Snorer

"During the Solea Sleep therapy, I didn't feel anything. It was very comfortable and I didn't have any after-work symptoms. I didn't even know I had it done!."
Jeff
Former Snorer

"I definitely sleep better. I breathe better and snore less. I have more energy in the day. For me it's been a life changing experience."
Paul
Former Snorer
Additional Resources
Convergent Dental recently introduced Solea Sleep, creating a whole new reason to utilize the Solea All-Tissue Laser.
Convergent Dental sat down with Randal Hadfield, DDS of Hadfield Dental Care to better understand his use of the latest addition to the Solea All-Tissue
A second-generation dentist, Dr. Anthony Bolamperti worked alongside his father before purchasing his own practice 25 years ago.