SOLEA ALL-TISSUE LASER
Same-Day Crown Lengthenings
& Crowns
Solea cuts enamel, dentin, decayed hard tissue, and bone anesthesia-free, and enables soft and osseous tissue procedures that are blood-free and suture-free with minimal post-op discomfort and remarkably rapid healing.
Same-day crowns (including crown lengthening)
Same-day crowns and restorations
Multi-quadrant dentistry
Soft tissue surgery previously referred out
Same-day snoring treatment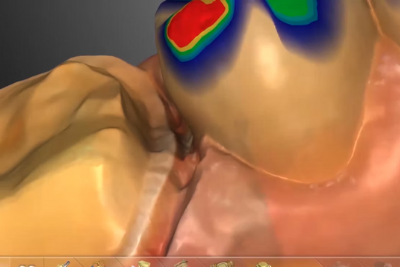 Experience Solea at DS World
Learn how adding the Solea All-Tissue Laser to your practice allows you to provide Same-Day Total Care and deliver the ultimate elevated patient experience. Schedule a meeting with a Solea Representatives while you're in Vegas or stop by the booth.
Schedule One-on-One Meeting
Schedule your 20-minute educational meeting with a Convergent Dental Representative during DS World 2022 using the calendar below.
Visit Booth During Exhibit Hours
Thursday, September 15th
11:30am - 8:30pm
Friday, September 16th
10:30am - 7:30pm
Saturday, September 17th
9:00am - 5:00pm
Additional Resources
The key to a successful CEREC same-day restoration is the ability to have smooth clear margins with separation at the time of scanning. Solea's ability to precisely cut through gingiva in a virtually bloodless fashion allows for an effortless, perfect scan.
This procedure demonstrates precision, minimal bleeding, reduced procedure time (4-5 minutes compared to approximately 45-60 minutes with traditional tools), and very fast healing.
This patient presented with tooth #9 fractured subgingivally. Evaluation revealed the fracture extended to the osseous crest. The patient was given the option of extraction and implant, or a closed, flapless crown lengthening followed by a post and core and crown.